Twenty-five years ago, the Rancho Murieta Airshow was legendary. This small privately owned airport southeast of Sacramento was centrally located to several military bases. Because of this proximity, d
uring their heyday they were able to attract military acts from Mather, McClellan, and Beale to name a few. Pictures from those days show U2s, B-52s and even an SR-71 making appearances to the delight of crowds.
This year the new airport owner, Bradley Beer, along with Air Boss, Mike Smith joined together with local businesses and airport tenants to bring back the glory days in celebration of Armed Forces Day. With only three months to plan and put on the show, this was a great event all around.
The event started with the Performer and VIP Barbecue on Friday night while tenants of the airport put on a Flour Bombing event to the delight of the crowds. In Aviation, Flour Bombing is when a lunch bag filled with flour is dropped by a "bomber" while the pilot maneuvers the aircraft over the target – generally a circle drawn on the runway or in a nearby grassy area.
The next morning by 7am the airport was buzzing with activity. Volunteers and vendors had arrived and the final touches to the setup were completed. The crowds started to trickle in around 9am and the field closed at 10am to airborne traffic.
A lazy morning of RV formation flights by the West Coast Ravens Formation Group kept our eyes to the skies while Mike Carpentiero hopped rides for locals in "Stanley" his 1930 New Standard D-25 Biplane. Stanley holds four people in the front cockpit and he was kept quite busy with happy passengers all day on Saturday.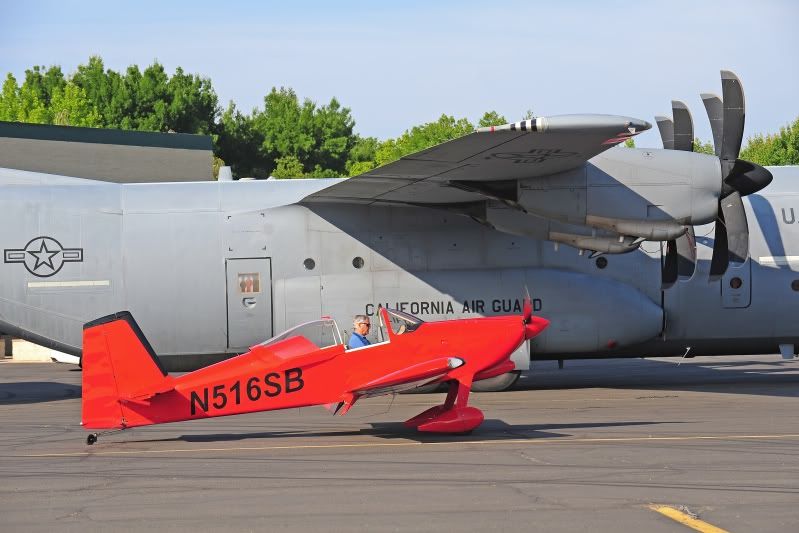 Wide variety of aircraft in attendance.
Military aircraft were on scene including a C-130 from Pt Mugu and a Chinook helicopter - both of which provided tours all day to the fans. Their crews were gracious to all of the attendees and were delightful to have around.
The Show opened with the National Anthem and Dan Buchanan filling the sky with streaks of smoke and color in his version of "Rocket's Red Glare, Bombs Bursting in Air."
Sandy Sanders and Wayne Handley handled the announcing for the show. Many aviation facts were shared during the day, with many long time airshow fans in the audience saying, "I didn't know that". Even I learned a thing or two that day.
Vicky Benzing showed her versatility with her Extra 300 performance. She has logged nearly 6000 hours in everything from aerobatic aircraft to helicopters and even flies her company's Gulfstream. She is a very accomplished pilot and is the only other woman currently racing at Reno with me. Her airshow performance is filled with energy and excitement.
Then, Bill Stein took to the ski in his Zivko Edge 540. Bill had previously flown with the Red Baron Stearman Squadron and is now touring the US as a solo performer. Besides his high powered performance, Bill's aircraft sports an amazing paint scheme which actually changes color as the sun reflects against the state of the art paint. The California audience was lucky to see his show, since he'll be on the road for nearly the entire season, showcasing his talent around the country.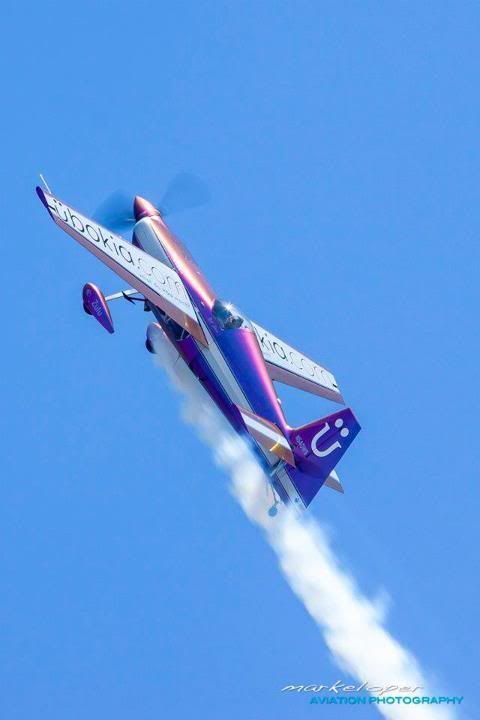 Stein's Zivko Edge 540 with the cutting edge paint keeps your eyes to the skies
P-51 Mustang Aerobatics flown by veteran, Dan Vance, was up next. Dan is a true professional. He flies for a major airline and can be seen racing his Speedball Alice at the Reno Air Races where he is also a check pilot for the Unlimited Class. He puts on a wonderful aerobatic routine and a great addition to the Air Show Circuit.
Dennis Sanders was up next flying Argonaut, the Hawker Sea Fury FB.11 powered by an R2800 and outfitted with smoke generators on both wing tips, allowing it to visually demonstrate the effects of wing tip vortices and its awesome aerobatic performance.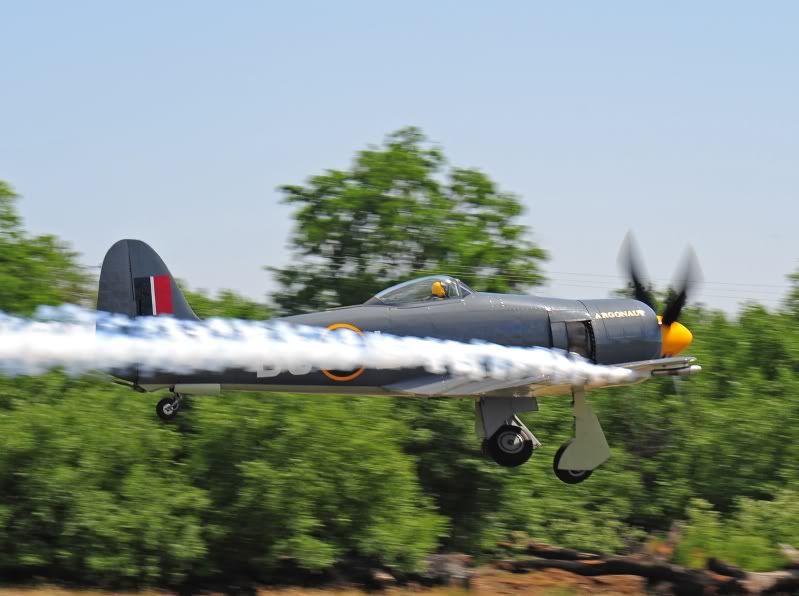 Argonaut with the smoke generators – always exciting to watch
Julie Clark closed the show with her "Smokin' T-34 Mentor". Julie has retired from flying for a major airline, but is still available to entertain the crowds with her patriotic routine. She is also great with the fans, especially the kids. This is her 32nd year flying aerobatics in air shows and is a "mentor" to many of us!
Caption: Julie Clark's Patriotic Aerobatic Display
Before the weekend started, Bradley Beer, owner of the Rancho Murieta Airport , said "The airshow will not only be an exciting event in our community. It gives us an opportunity to support the USO by donating a portion of the proceeds to them. This will be the best airshow in our region this year."
And he was right. He also said that if they broke even, he would be happy to do it all again next year. Now that they have more than three months to plan and execute – 2013 will be even better. Circle the first weekend in June 2013 on your calendars now!
The Pylon Racing Seminar was held in June with a great turn out of Rookies and Veterans taking to the course for practice and evaluation. The new Unlimited Course was flown by both Steven Hinton and Dennis Sanders to assess the changes. Both of them walked away with positive comments, so we should be okay with the new course changes.
Also in June, the initial race entries were due to RARA. And it looks like we are in for a solid year of racing. While the numbers aren't over the top, we have more than many expected – with 22 Unlimited Racers already registered. All of the other classes are short of a full field, but we are all hoping for additional late entries to round out the field.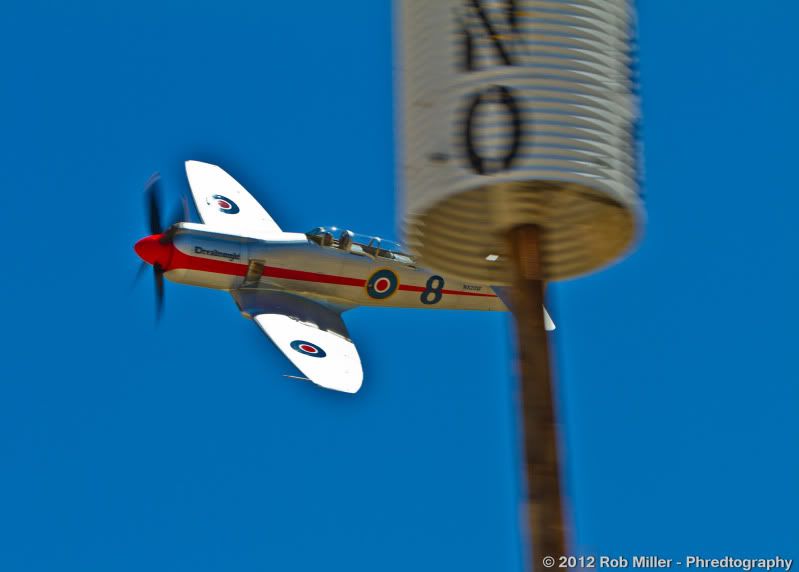 The Pylons are waiting…
Air Racers 3D Movie
Also, you should know that the Air Racers 3D Movie is working on a premiere event at Reno during Air Race Week. Stay tuned for additional information, but we are looking at September 7th - 20th viewings around the Reno area.
And don't forget the September 12th event in Sacramento. I will keep the information coming.
Until then...
Fly low...fast and you know the rest...
Marilyn Dash
Ruby Red Racing
PS... always looking for Race Sponsorship, if interested, drop me a note.