One of the finest Warbird Airshows in the world has to be the Chino Airshow hosted by Planes of Fame Museum, in Chino, CA. This year, the focus was on Grumman Aircraft and their fleet.
The gates open at 8am. For anyone interested in seeing these aircraft up close, they now have a "hot ramp" allowing people to get very close to the planes that will be flying during the day. This allowed lots of photo-ops for folks who would not normally get to stand next to a Bearcat or Tigercat.
Silver Wings Wingwalkers started the show. They are a crowd favorite and are especially popular with the kids. Wingwalkers are only as good as the pilots who keep them steady. Hartley Folstad and his wife, Margaret Stivers showcase wingwalking at its very best.
Minutes later, we watch five beautifully restored Grumman F8F Bearcats in close formation. And so it goes for the rest of the afternoon. It's hard to choose favorites, so I'll share with you how things unfolded.
Steve Hinton performed an amazing aerobatic display in a Tigercat. Aerobatic routines are generally done in tiny agile aircraft like my Pitts Special or the Zivko Edge. To see something as large as the Tigercat fluidly dancing through the sky, is truly a sight to behold. Only Steve Hinton could make that dance work. Amazing.
After a brief intermission, to allow arriving and departing flights and to give the Air Boss a chance to eat lunch. We now have the Korean War Air Flight which included a terrific fly-by of the MiG-15 with the F-86. Other aircraft sharing the sky during this demo include the Lockheed T-33 Shooting Star, T-6 Texan, several Hawker Sea Furys and a Skyraider.
Next up was the WWII Pacific Theater Fly-bys. This included several of the Grumman Aircraft including the SBD Daughtless, F6F Hellcat, F7F Tigercats, along with the F4U Corsair, FM-2 Wildcat and the Japanese VAL and Zero. The European Theater Fly Bys included the Curtiss P-40 Warhawk, The Lockheed P38 Lightning, P-51 Mustangs, and two B-25s.
Many Airshow Regulars have seen The Horsemen, a two- or three-ship Mustang Aerobatic Team who have performed all over the country. This year, The Horsemen have changed their stead and now have a show with a three-ship BEARCAT Aerobatic Program. There are very few times during an airshow that all the pilots get to their feet and walk to the rail to watch. During The Horsemen's segment, all eyes were skyward. Jim Beasley, Ed Shipley and the newest Horsemen, Dan Freidkin put on a wonderful show. And if you believe the rumors, they may have a three-ship F-86 demo next year. Now that would be remarkable.
Brian Sanders and Argonaut performed next. Brian's dad, the late Frank Sanders developed a smoke generating system for his airshow performances back in 1972. He was approached by NASA to create Self Contained Smoke Generators (SCSG) to study wake vortexes. The SCSG and the newer Smokewinder are products of the Sanders Smoke Technologies and are used to provide smoke systems which are completely independent of the engine. Most aerobatic smoke systems are designed around the engines. During this demonstration, Brian shows the SCSG on the wing tips of his Sea Fury. This is another crowd pleaser, especially for the young ones, because of how the smoke trails and lingers and forms different shapes. Brian flies a beautiful routine, definitely another highlight to any show.
Next up on the agenda is what we call the Gaggle of Warbirds. On Saturday, we were treated to 30 beautifully restored antique aircraft taking to the air in formation. This is an amazing sight to behold, and impossible to capture on film. On Sunday, due to a bit of attrition, we were down to 22, but it was still a spectacular sight.
The USAF provided a few demos for us late in the afternoon. The USAF A-10 Warthog Demo is worth the price of admission right there. The single-seat, twin-engine, straight-wing jet was developed by Fairchild-Republic. An incredibly responsive and powerful aircraft, she has made the news with her firepower and her ability to bring pilots back safely after seeing some serious damage.
The appropriately named C-17 Globemaster was the final act in the show. This is a LARGE military transport aircraft developed by McDonnell Douglas. The C-17 is used for rapid strategic airlift of troops and cargo to operating and forward bases around the world. She flies with a crew of three, two pilots and a loadmaster. Nearly 170' wingspan, with a max takeoff weight of 585,000 pounds and she cruises at Mach 0.76. But, the thing that makes her so special is her agility. To see this giant move the way she does is truly awe inspiring.
I hope you have enjoyed hearing about the Planes of Fame Airshow. I hope you will make a pilgrimage to one of their locations in the near future. The currently have two locations, one in Chino, CA and the other in Valle, AZ. They also put on wonderful educational programs throughout the year. Check out their website to learn more about the programs that are available. www.planesoffame.org
One more comment, this was my first airshow with a camera in my hand other than my Blackberry. I hope you enjoy some of the pictures I have added here. I hope to continue to learn the fine art of airshow photography.
Back to Air Racing News
Red Bull in San Diego
Last year's champion, Hannes Arch had a serious bird strike at the San Diego race last month. He hit a pelican! This caused him to lose his lead and dropped him to third on the podium. Nicolas Ivanoff of France won his first race and Paul Bonhomme took second place. Current standings for the season still have Hannes in first, with Ivanoff nipping at his heals with Bonhomme just one point behind.
National Championship Air Races – Reno
It looks like we are still playing musical airplanes during the off-season. Frank Taylor recently purchased Dago Red. Yes, the same Frank Taylor who owned the slick racer years ago. We do not expect to see her at Reno again until 2010, but let's keep our fingers crossed. Smart money has Skip Holm back in the driver's seat.
Word is that both September Pops and Rare Bear both received new paint jobs last month. And we are looking at a low rookie count for Pylon Racing Seminar in mid June, but we'll make the best of it. I have heard of some pretty exciting aircraft that will be in attendance at PRS. Next month, I hope to cover what happens at PRS and any other news coming out of Reno. Stay tuned, this should be a great year.
Fly Low, Fly Fast, Turn Left

Marilyn Dash

Ruby Red Racing

Caption – Three-ship Horsemen Routine in Bearcats
Caption – one of the Bearcats flown during the show
Credit : Marilyn Dash
Caption – The Lineup of Grumman Aircraft
Credit – Marilyn Dash
Caption - Two Tigercats in the air and one being fueled on the ground
Credit – Marilyn Dash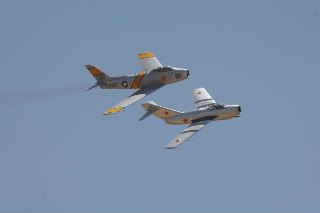 Caption – MiG 15 and F86 in Formation
Caption - Brian Sanders performs in Argonaut
Caption - Round Engines are notorious for their smoky starts
Credit : Anthony Taylor